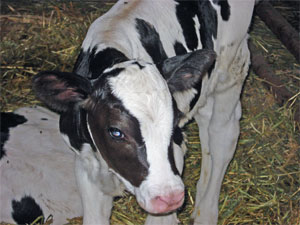 While the rest of the family was off helping Shari, Jim & Luke move into their new house, Coleen was called into action when a cow suddenly went into labor.
I think it was June 22nd, and Coleen had gone out to the barn to feed the cats & she noticed that one of the heifers in the holding area was beginning to birth its first calf. The concern was that the heifer was not in the maternity pen, where there's plenty of room and bedding, but in the stall area where the calf could easily get stepped on by the mother or another cow. The calf was just beginning to emerge when Coleen arrived, so she rushed over to the house to notify Brandon (who was watching Luke and Anna) of the event.  When she was half-way across the driveway and heard a thunderous GROAN, she arrived to find the calf laying in the sand of the stall.
It seemed like the mother and other cows in the holding area were agitated, and Coleen was concerned for the safety of the heifer calf. Chris called her back from his cell phone when he noticed the missed call, and recommended that perhaps she could pull the calf to the other side of the gate, where it could not get stepped on but the mother could still lick it dry. She did, and that worked for a bit…until the calf started trying to stand, and the mother became even more agitated.
After wrestling with a sofa-sleeper for a bit, Chris and Roger paused to plan their next strategy for relocating it from outside to in, and gave Coleen a call to check on the status. We all agreed that if the calf wasn't staying within reach of the mother to be licked dry, it should be put in the calf pen. Coleen took care of that and continued to keep an eye on things until the moving crew was back for afternoon milking. Coleen got naming rights to the calf & dubbed her Sandy!